About Chef Maureen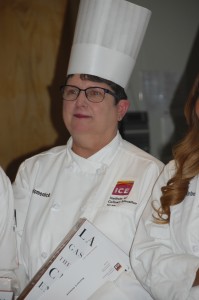 Maureen Homenick is a passionate and inspired cook who is at her best creating delicious and healthy food for others to enjoy. Her cooking is renown for its layers of flavor and the infusion of just the right seasonings and ingredients. The result? A once ordinary dish transformed into a truly satisfying culinary experience.
For Maureen, cooking is not only an artistic expression, but an expression of our community as well. She uses fresh, locally grown and harvested seasonal food products and has developed relationships with Long Island farmers and purveyors, ensuring year-round access to freshly grown fruit, vegetables, meat, poultry and fish.
Maureen's personal chef service specializes in gluten-free cooking and heart healthy cuisines. Her personalized menus are specific to your food preferences and dietary requirements. So you will always have convenient access to delicious, nutritious and gourmet quality meals, whatever the occasion. Best of all, you can spend time with your family and friends rather than spending time in the kitchen. The service includes weekly meal preparation, in-home dinner and cocktail parties, tasting dinners, catered events, as well as private cooking lessons.
Maureen is both self-taught and a graduate of The Institute of Culinary Education in New York City. She's been affiliated with Kitchensurfing, a company that matches professional chefs to cook in private homes and which The New York Times described "as good as a restaurant, if not better." Maureen also holds a Master's Degree in Social Welfare from Adelphi University.