Catering & Parties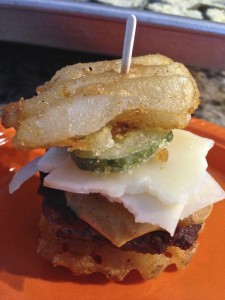 Catering
Whatever your culinary delights or wishes, Chef Maureen offers an array of cooking experiences just right for larger dinner parties, special occasions such as birthdays, anniversaries, graduations, communions, confirmations, bas/bat mitzvahs, bridal showers, bachelor/bachelorette parties, wedding rehearsal dinners, weddings, or any other special occasion.
Count on Chef Maureen for gourmet breakfast, lunch or dinner catering of parties, business and office events. She'll create a personalized menu just for your event, including inventive hors d'oeuvres, dinner courses and desserts. Chef Maureen can prep and serve on premises or prepare ahead for delivery. She also has resources to secure and manage any staffing needs as well as other resources you may need for your party. Chef Maureen manages your event from beginning to end with proper planning, expert execution and timeliness so you have more time to mingle with your guests and/or business associates. She also provides trays of prepared food for holidays and special occasions and for business events.
If you are in need of a simpler arrangement, Chef Maureen can also provide trays of prepared food for holidays and special occasions as well as business events.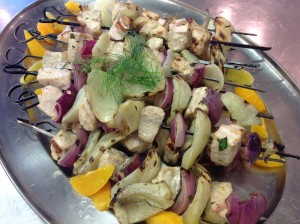 Cocktail Parties
Chef Maureen prepares and cooks an eclectic blend of delicious, expertly prepared and beautifully presented hors d'oeuvres for any occasion. Cocktail and food pairing recommendations are also available. In addition, Chef Maureen manages staffing and other resources needed for your party. Most importantly, you get to truly enjoy your event and mingle with guests and/or business associates.
Dinner Parties
Chef Maureen creates your menu, shops for the groceries, and prepares and serves your meal in the comfort of your own home. Ideal for a romantic dinner for two or for celebrating a special occasion with family or friends.
Tasting Dinners
Embark on a culinary adventure with friends, family or colleagues with Chef Maureen's tasting dinners. You'll experience a variety of cooking styles as well as foods from various regions of the world.